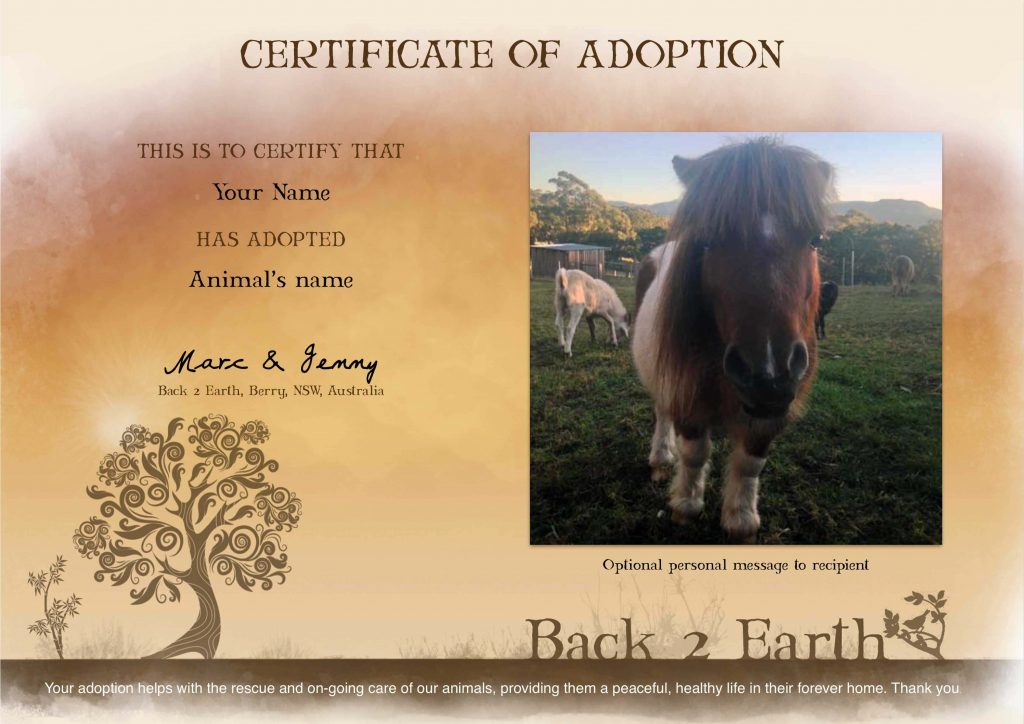 The story behind Back 2 Earth began with a dream. A dream for us to live a life based on kindness and compassion, to heal our health and to have as little footprint on the environment as possible. With these philosophies in mind we created Back 2 Earth, a raw vegan, organic health retreat, farm stay and animal sanctuary with about 75 animals.
Not all our animals at Back 2 Earth are rescued farm animals, however each one has their own unique, and often sad, story as to how they came to live with us. Back 2 Earth provides people with the opportunity to meet these beautiful, intelligent, kind animals and make a personal connection through spending quality time with them. Every one of our furry or feathered animals has their own personality, likes and dislikes, and social structure.
Thank you for making an online donation to Back 2 Earth, our work would not be possible without your help. Your much-needed contribution will be used to provide the 75+ animals who call Back 2 Earth home with safe haven, full bellies and veterinary care. Together, you and I, are making real change for animals.
Regular giving is an easy and flexible way to support Back 2 Earth on an ongoing basis. You can donate monthly or yearly or just make a one time donation. Your selected donation is automatically debited from your credit card. Clicking on the 'Adopt Now' button will give you the pay via PayPal or via a debit/credit card.
Our animal sponsorship also make fantastic and compassionate gifts for your family and friends. Please enter the name and the personal message to be printed on the e-Adoption Certificate when selecting your donation amount. If you have any questions, please contact us.
All donations over $300 will entitle you and a friend (2 people) to come and meet the Back 2 Earth furry friends and enjoy a raw vegan high tea. However, bookings are essential.
Please choose which of our wonderful animal residents you would like to sponsor. You will receive via email, a Back 2 Earth adoption certificate of your sponsored friend.
If you would like to donate using Direct Deposit / Bank Transfer, please use the following details. Once we receive payment we will be in touch via the email provided.

Account Name: Back 2 Earth
Bank: Westpac Bank

BSB:  732051
Acct No:  663027

Description: Please enter your email address